Domain Names:  A Beginner's Guide
If you are a beginner and want to know about domain names and how domains work, you are at the right place.
In this article, we will explain various parameters of a domain name.
Initially, you may feel some terms too technical but please don't be panic.
As you move on and go learning more and more, things shall get easier and clear for you.
We are using easy and less technical language in this article. Surely, our intention is to make you understand things properly with a clear concept.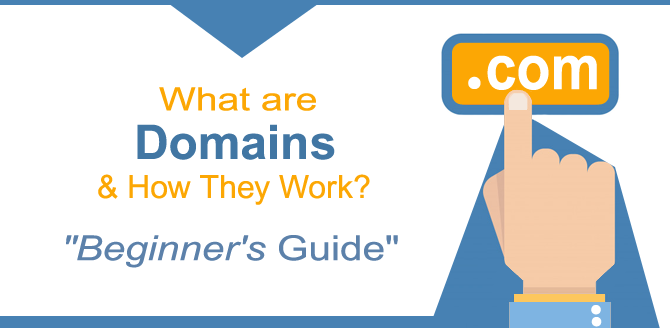 After having read this article, you should be capable to choose the right domain name for your website. This is the ultimate objective of writing this blog post.
Our team has prepared a complete guide for beginners so that things become crystal clear to you. This will make your onward journey in the internet world easier with good financial gains as well.
We are using 10 years of hard work and experience in explaining things to you.  As a matter of fact, all the tested resources are available in one place (for free) for you to save your money and precious time.
So, please read this article with a cool mind and enthusiasm.
Wishing you the best.
What is a domain name?
A domain name is defined as a web address that identifies a website on the internet. For example, www.google.com.
In other words & a more simple way, we can say a domain is an address of a particular website. It is something that we type in the web browser to reach a particular website.
At one time, one domain links to one website only. Each website is having its own domain. The domain and the website are two different things that connect online. Any domain name connects to any website. No issues.
When you purchase a domain, you are taking your website name and still, you have to get your site designed and connect the two. This way the information is put online and made globally available to the people in a digital format. 
The Internet is a network of networks. It means a giant network of computers globally connects to each other through a huge cable network. On this network, all computers are communicating with each other.
Each computer has an assigned unique number called IP address just like a telephone is given a specific telephone number.
Domain names identify IP address(es).
Domain names identify one or multiple IP addresses. A typical IP address is a string of numbers like 213.14.43.22. But human beings cannot understand this numeric language or code and also it is difficult to remember.
To overcome this difficulty, domain names came into existence, which functions as a link with the IP address. To make things more clear, the IP address is a numeric language code and the domain name is the nickname for that code.
A domain name is one of the pieces of information in the Uniform Resource Locator (URL) to identify particular web pages. For example in the URL http://google.com, the google.com is the domain name.
To conclude, the domain name is part of the URL which points to the IP address.
How does a domain name work?
When you type a domain name in your browser, it automatically connects to an IP address that in turn takes you to the website. Of course, the whole process is a technical one and can be step-wise depicted as under: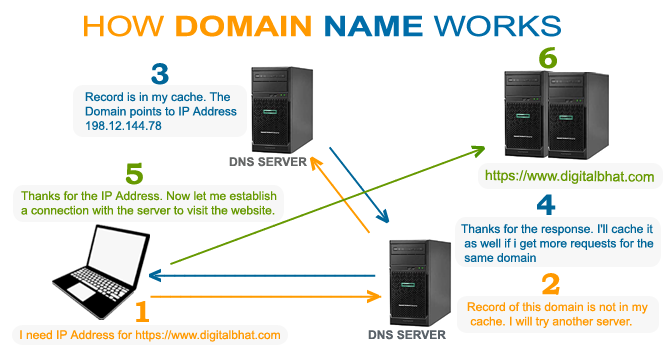 When a user types a domain name in the browser, It sends a request to Domain Name System (DNS) which in turn sends the request to the name servers associated with the domain name.
Basically, these name servers are the computers belonging to hosting companies where they host the websites of their clients.
Afterwards, the hosting company sends your request to the exact computer where your website is stored. This computer, also called a web server, fetches the information linked with the domain name and hence loads the website in the browser.
Indeed, this is the technical journey right from typing a domain in the browser and loading a website but it takes only milliseconds for execution.
Lesser the less time is taken in the journey, the faster the website's loading speed and the more chances for visitors to stay at the website.
Your personal identity on internet
A domain name may consist of one or more words. It is your personal identity in the internet world.
Your own domain name, website, and email addresses give your business a professional look and an internet-established presence. This makes you a professional businessman in the internet world.
There are thousands of free websites hosting a number of web pages for free with a free domain name. But a word of caution is that a large percentage of web users do not take a website seriously if it is using a free web space and free domain.
Online buyers may think if the site owner does not afford paid hosting, it is not worth buying from them.
Free hosting destroys your image and status of being an online merchant in the eyes of buyers even if you have products worth gold to sell. This is a fact and you have to get paid hosting (ads-free) if you have to succeed in the internet business to make money.
How to choose a good domain name for your business?
According to an estimate, the total number of domains registered till March- 2019 is 351.8 million and a huge list of new registrations is added to it every passing day. All good domains have either been registered or will be registered soon.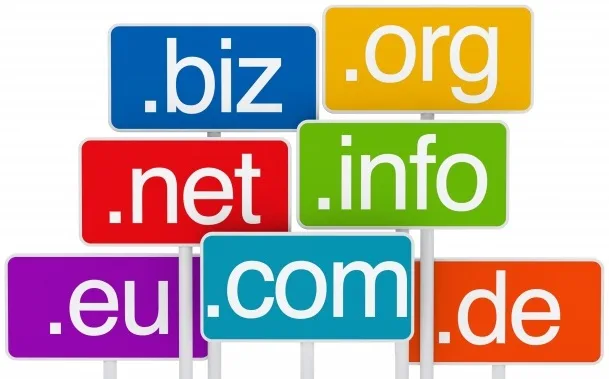 While choosing your domain name for your online business, you need to keep a few points in mind.
Your domain should be brandable, short, simple, easy to speak, not difficult to spell, and easy to remember. It should have at least one keyword pertaining to your business in it and that should be your primary keyword. You may also insert your company name in it before the keyword if you prefer.
Try to keep the domain short and use a maximum of 1 to 3 words having your company name inserted in it. For example, your company is: ABC marketing & the keyword is internet marketing, the domain name is ABCinternetmarketing.com and the whole URL in such a case would be http://www.ABCinternetmarketing.com. Genuinely this is a good domain name to choose.
I prefer not to put dash or hyphens between the words though Google does not mind it. You may also use .net, .biz, or .org domain extensions.
Ideas for names 
You may use Domain Name Generators to get some good ideas regarding domain names before registering one.
If you are a newbie and do not own a company, you may use a short domain name comprising 1 to 3 good keywords. For such keywords, you should make comprehensive research. These keywords should relate to your website /business.
You may also use a domain name other than a specific researched keyword but the domain should relate to your website. It should immediately point out what the site is all about.
Using the keywords in your URL (site address), makes Google give you higher rankings in search results for your keywords. This way you get a good amount of laser-targeted organic traffic to your website.
Organic traffic refers to the persons who are actually looking for the product you are selling or services you are offering and hence more conversion, more online sales, and more profits.
How to register your domain?
Domains are registered with an organization called ICANN through Domain Registrars. You need to pay around $10 for .com domain registration and an equal fee for its annual renewal.
There are some Registrars and online service providers who provide you with free domain registration for the first year. They usually provide this offer when you buy hosting from them.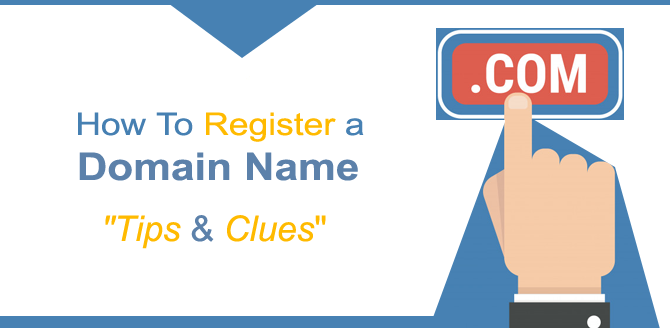 It is advisable to buy the Domains directly from the Registrars and not from Resellers.
The domain name industry is highly competitive and there are a large number of companies with huge price fluctuations. But never compromise with less price like INR 150/= (About $2) per year for domain registration. If the price is less, there will be demerits then.
When you register your domain, the Registrar should register you as owner with your administrative and technical contact. You should be having full control over it to let you choose the hosting company you desire. The domain registration company should never cheat you.
Search your domain before its registration
For domain registration, you have to search for your desired domain name. If available, you have to fill in the required details like your name, mobile number, email, etc. to book it. While paying with a credit card or Paypal, you will register your domain instantly. You will also get full access to it for its onward management.
Some good Domain Registrars in my view as experimented with include: www.godaddy.com, www.namecheap.com. As I have noted, Godaddy is perhaps the biggest and most popular Domain Name Registrar today.
For some reason, If you are not happy with your Domain Registrar, you can simply transfer it to a new Registrar. This will cost you a small fee called Domain Transfer Fee.
After buying your domain name, if your site is not ready and you have to wait for some time, you can park your domain. You will get a free parking page from the Registrar at no extra cost. So you may take your time to design a stunning website.
In brief, I suggest you to book your domain as early as possible. People are continuously registering good domain names on daily basis. Tomorrow you will be left with fewer domain name options.
Good domains have gone
It is important to realize  that all good domain names have already gone. Most of such domains have been registered and simply parked with no further development.
Some domains may become available again for registration. This happens when for some reason, people do not renew their domains in time. Domain Registrars terminate these domains after some time if such domains are not premium ones.
Please don't get confused with the word "Premium". The Premium Domains are the domains that are old, expensive, and brandable having good keywords. These domains have a good number of backlinks and drive a fairly good amount of traffic to the websites.
For a detailed comprehension, I have written a separate article on expired domains.
How to renew domain name?
If you have registered a domain name for a particular period say one year, make sure you renew it in time before expiry.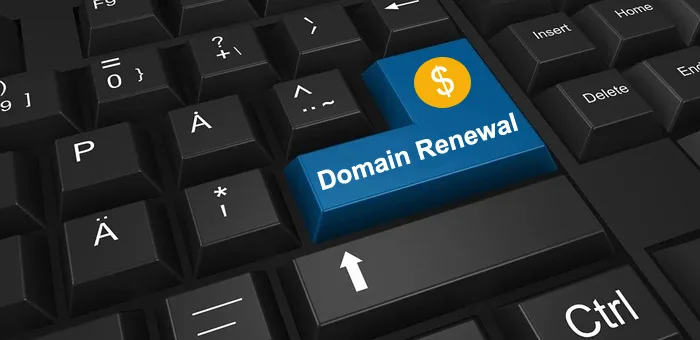 Sometimes what happens, the site owner does not renew his/her domain name in time and hence loses it to his competitor. Consequently, he loses his whole traffic and market.
Therefore, you need to take proper care and have to remain vigilant. Many Registrars provide you with an Auto Renew feature on their hosting platforms.
So placing a credit card on the file and setting this feature "on" shall set you free of domain renewal tension. The things shall work on their own.
I presume that you are smart enough to understand that the card-issuing bank should make payments on your behalf to automate your business. So pay your credit card bills regularly and avail of this online payment mode when you badly need it.
Sometimes what happens that a technical issue arises while making a payment using a credit card and payment is not made in time.
You can well realize the situation that could arise at the time of domain renewal. Everything goes out of your hand. Domain goes and your business goes in seconds. You are left with empty hands.
To avoid this situation you can set the "Auto Renew" feature "to" at least one month before the domain renewal date. This will ensure your domain renewal in time without any risk. 
How does a domain differ from website and website hosting?
A website consists of web pages that are linked to each other and web pages contain information in the form of text, images, audio, video, etc.
If we say the domain is the address of a website, then it is equally true that web hosting is the home where your website resides. A web hosting company simply provides you with this residence. It provides you the computers called servers where your website is stored. In turn, you pay a certain hosting fee to the company.
To learn more about computer servers storing websites, we have written a separate article on what is web hosting?
There are certain points to be kept under consideration while choosing your web host. Here is one more article regarding how to choose a good website hosting company for your business?
So to create a website, you need a domain name and a web hosting service. These are two different services but can also be availed by the same company to make things easier for you.
If services are to be taken from two different companies, you need to edit your Domain Name Settings and enter the Name Server Information (which the hosting company furnishes) to make your website live.
What are the different types of domain names? 
Basically, the domain names are registered with different extensions like .com, .net, .info, .co, .co.in, .org, etc. However, the .com extension is widely used and is the most popular of all.
We always suggest you register a domain name with a .com extension. A .com domain extension performs well in the industry.
Different types of domains are as under:
Top Level Domain – TLD
These are generic domain extensions and are placed at the highest position in Domain Name System.
Country Code Top Level Domain – ccTLD
These are country-specific domain names and are used to get audiences or visitors from a specific country. For example .in, .us, .uk, .au, etc.
Sponsored Top Level Domain – sTL
These domains have a sponsor representing a particular community. For example .edu, .gov etc.
What is ICANN?
ICANN stands for "Internet Corporation for Assigned Names and Numbers."
It is a non-profit organization that controls Domain Name System. Its Headquarters are in Southern California and It came into existence in the United States in 1998.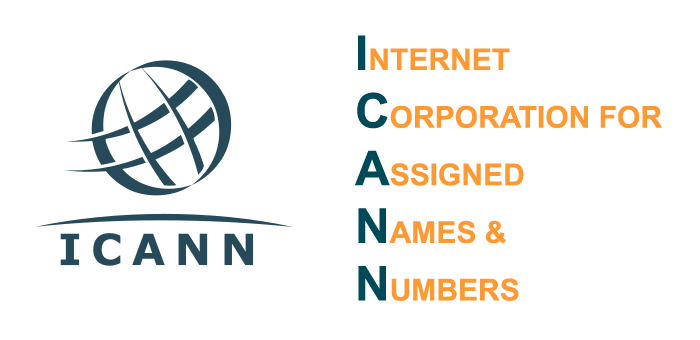 It allows Domain Registrars to sell domain names and make changes to the domain names registry on the user's behalf
ICANN drafts policies for domain names but does not exercise any control over the content published on the internet via websites and online journals or blogs.
It makes the internet run smoothly across the globe and put efforts into keeping this giant source of information open to all.
When you register a domain name through the Domain Registrar, ICANN takes a small fee as a part of the Domain Registration Process.
Frequently Asked (FAQ) about Domain Names
We are helping people who are beginners to the domains and websites. We have given complete thought to the possible queries that can arise in the minds of newbies.
So, we have answered beforehand all the possible questions that you may ask.
Q 1- What is a subdomain?
A subdomain is a folder on the main domain. e.g., www.domains.digitalbhat.com is a subdomain of the main domain www.digitalbhat.com. Here the folder is domains.
In other words, we can say that a subdomain is part of a domain and comes before the main domain name (primary domain name). It is said that search engines recognize subdomains as independent websites.
Q 2- Can I create subdomains myself?
Without doubt, you can. Once you register your domain name and buy hosting, you can create subdomains yourself in the hosting account. It is easy, just needs practice.
Q 3- Can I buy multiple domains at the same time?
Of course, yes. You can. There is no restriction.
Q 4- Can I cancel my domain name after registration?
Usually not. Your domain name is registered at least for one year and if you intend to cancel it earlier, your domain will not be canceled and you get no refund in most cases.
Yes, If you do not renew it after one year, it gets automatically canceled and again made available for registration. So choose your domain name wisely. Take your time and save your money.
Q 5- What is a second-level domain?
It refers to the part of the domain on the left side of the final dot. e.g., In the domain, www.digitalbhat.com, digitalbhat is the second-level domain and .com is the top-level domain.
Q 6-What TLDs should be avoided and why?
Some TLDs are deemed to be spammy and spread viruses. e.g., .xyz extension.
Q 7- What is Registrant?
Registrant is a person or buyer who registers or buys a domain name on the internet through Registrar or Reseller.
Q 8- What is WHOIS?
WHOIS is a question-and-answer protocol that furnishes information regarding the domain holder, date of domain registration, date of domain expiry, availability of the domain, etc.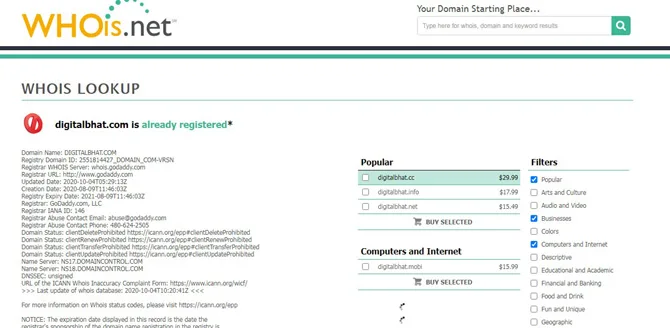 Moreover, It gives you information on whether ever Google has banned the domain or not. You also get information about the Domain protected with a Trademark.
Q 9- After buying the domain name, am I the domain owner?
Simply not. You are the domain holder because you simply hold it for the period you pay its fee and never get it permanently. However, "domain owner" in place of "domain holder" is also broadly used on the net.
Q 10- Can I invest in domain names?
In reality, it is judicious to invest in domain names. If you get a good domain name, you can keep it and sell it at the right time for a good amount. Usually, domains that are short, have geographic names, are brandable, and old, and drive huge traffic to the websites fetch a good price in the market.
Before investing in the business, you should be having a fairly good amount of knowledge about the domain industry. Additionally, you have to work hard and have to be smart enough to reap benefits.
Must be remembered, never jump into the market with inexperienced hands. You may lose money and repent later on. First, gather information on how things work in the domain industry.
There are many marketplaces available on the internet where you can sell or buy domain names like Sedo and Godaddy etc.
Q 11- Can I build a website after registering my domain name?
In today's internet world, building a website is not difficult. Consequently, there is a huge number of companies or freelancers who design and develop websites. The price varies according to your requirement and features.
To make your internet business a success, you have to pay special attention to your website. It must be appealing, magnet-like, and converting.  
There is a drag-and-drop web technology that you can use yourself to make a website. No coding or programming is required. It works just like Microsoft Word. Easy and smart. You can build exactly whatever you have visualized about your dream project.
Q 12- What is Domain Privacy?
When you register a domain name, the Registrar or Reseller asks for your personal information like your name, email ID, phone number, physical address, etc., and the same information is displayed in WHOIS data for a particular domain.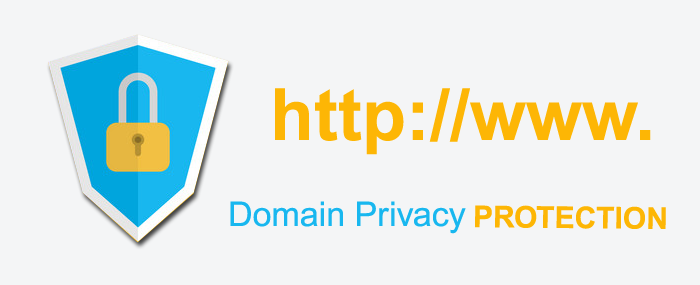 This information remains open to all and anybody can check it.
If you don't want others to see this information, you can simply buy a separate add-on service called domain privacy from the Registrar.
This service conceals your personal information and makes it private. Instead, false information is publicly displayed.
Summary
To summarize –
A domain name is just like the address of a website.
A website loads in the browser as a result of a technical journey that is executed in milliseconds.
Choose your domain name carefully and after proper research.
Registrars register your desired domain name against a certain fee.
Importantly, you have to renew your domain in time to keep your website going on.
Undoubtedly, a domain is different from a website and web hosting but all three work in collaboration.
There are various types of domains and ICANN manages the Domain Name System in the Internet World.
You can manage your domain name from within the Domain Control Panel. It is not a tough job at all but needs practice. In fact, once you do it practically, you will get some know-how and master it gradually.
Please don't forget to leave a comment regarding this article. If you have any doubts, please feel free to post your query. We shall gladly reply and make things clear to you.
CORNERSTONE CONTENT ON DIGITAL MARKETING