What are expired domains?
Expired domains are the domains registered by individuals or organizations that used to point to an IP address and hence a website in past but not now. These domains can be re-registered by anyone.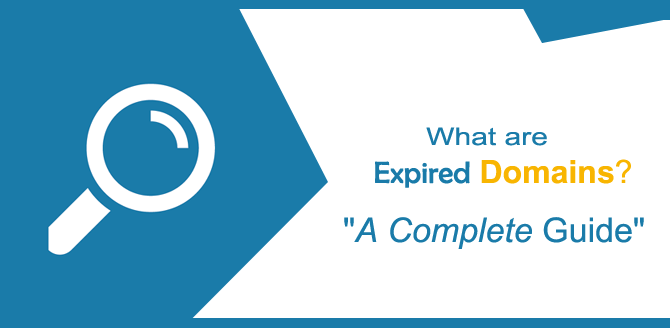 These domains can be reused to point to a new IP address and hence a new website.
The domains get expired when not renewed on the due date. Immediately all the services linked with the domain are disabled.
There are various reasons for it. Firstly, the negligence exercised by the webmaster who forgets to renew the domain in time. Secondly, the domain owner may lose interest in the business leaving his site in running condition. But since the owner might have built traffic, the site runs on its own. Thirdly, the domain registered may be terminated due to Trademark infringement.
You can take advantage of expired domains while starting a new web business. If the expired domain is having pre-built traffic, you can rebuild the site or redirect this traffic to your existing site (using 301 redirects). This way you may enjoy the fruit of other's hard work.
The expired domains can also be used to build a Private Blog Network (PBN). You can also sell the domain after some time at a higher price without doing anything simply by waiting for the right buyer. This is called Domain Flipping.
The only thing you have to do is to separate good domains from bad ones.
It will take you some time but the time invested shall be certainly beneficial at a later stage.
Finding a good expired domain somewhere on the internet and getting it at a less price is a fortune. It is simply picking up gold from the roadside left by the previous owners who do value it anymore.
Those who understand Search Engine Optimization and the importance of relevant backlinks always look for opportunities to get good expired domains.
The backlinks from the Authority Sites (having similar content) are always relevant and increase the search engine rankings of your domain.
This results in giving your site a higher amount of organic traffic having a higher conversion rate. This SEO traffic consists of real humans and not robots.
There are a lot of websites and services selling expired domains. You can buy an expired domain in an auction or otherwise on the net.
But the word of caution is that the domain should not have been banned by Google or blacklisted on the internet.
The expired domains are very popular and could be beneficial if chosen carefully taking all advisable precautions.
What are the precautions to be taken while purchasing an expired domain?
Before you consider an expired domain fit for your business, you must check out the following factors to reap full benefits from it.
1) Check the Domain Authority (DA) and the Page Authority (PA) using relevant tools like Open Site Explorer which affect rankings on search engine results. Moz introduced DA and PA. Your domain should score at least 25 points and more in the scoring metric.
2) Check the status of your domain in Google using Google Banned Checker. There are various factors that count for banning a domain by Google. This includes keyword stuffing, duplicate content, using robots, and linking to adult or banned sites.
Ensure that Google has not banned the domain. You have also to see if the domain is safe for running Google Adsense Programme using Adsense Sandbox Checker.
Put your URL and click on preview ads. If it shows ads, you are safe, otherwise banned.
3) Go to archive.org and see the full domain history to ensure the domain is having a clean background. You would get the information regarding what the site was all about in past. You can see a live website of that time. Wayback Machine is an excellent tool to dig the past of an expired domain.
4) Check if the domain is having social media presence where customers engage to get more information about a particular product or service.
A domain must send a social signal whenever we check its backlinks.
Having a social media presence is good for domain ranking.
5) If the previous domain owner of the expired domain has resorted to spamming, avoid such a domain and move ahead in your search. Your domain should be having a Trust Flow (TF) of 15 or more to consider it safe for buying.
6) You must also track the Trust Flow and Citation Flow. Trust Flow (TF) depends upon the quality of backlinks and Citation Flow (CF) relies on the quality of links so-called link juice.
A TF Score of 15 and a TF-CF Ratio of 1 are safe and beneficial. The value of TF and CF for a domain varies from 0-100.
7) Do some digging and find out if the domain has a bad reputation or something questionable. See what the existing audience is speaking about it preferably in a forum or comments left somewhere.
8) Using ahrefs.com you can check for Chinese backlinks. Avoid domains having Chinese backlinks and Anchor Texts written in different languages.
9) It is equally important that the domain should not associate with bad practices like malware and malicious code in past.
How to buy an expired domain?
The domain name after we register it for a specific period (I to 10 years) is leased not owned. In other words, you are not the owner of the domain you pay the domain registration fee for.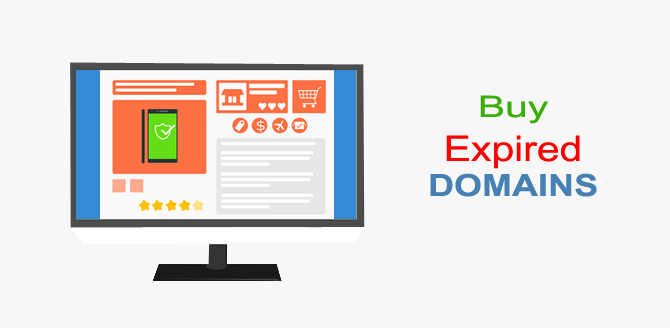 There are the following ways to acquire an expired domain on the internet.
1) Within the grace or redemption period usually of 1-30 days, the Registrant can renew the domain name but for a higher price usually an additional $100 for a .com domain.
2) After the expiry of the redemption period, the domain ownership is forfeited. A message goes to those who are waiting and have expressed an interest in buying the domain. This process is called a backorder.
3) If there is no backorder for the domain, it is put to auction, usually lasting 7 days. The domain in the auction goes to the highest bidder. A good domain in the auction usually fetches a higher price.
4) An expired domain that is not sold in the auction goes back to Registry and domain ownership goes to the person who buys that domain.
5) An expired domain that is dropped from the Registry is deleted. This can be registered in a similar way as a new domain name by an organization or a person who first finds it available for registration. 
How to know when a domain name expires?
You can easily see when a domain expires by using WHOIS lookup tool. This will give you the information like domain registration date, the date when it will expire, the present domain owner, and his contact details.
What are the benefits of acquiring expired domain names?
Buying an expired domain may give your website a concrete Domain and Page Authority. You need not invest hard work, time, and bags of money in it. You may start driving organic traffic from search engines to your website without much promoting the site.

The SEO is done with the backlink profile already built now you need to utilize somebody else's efforts wisely to get benefits. That is the whole game. One thing very seriously is to build the website on the same niche it existed previously or else your project may fail.
For example, You come across an expired domain previously associated with building material and you are interested in it. It is advisable to rebuild the site by providing any or all the materials used in construction.
If you use the domain for the medical agency, people will, of course, visit your site but will return with disappointment for they are looking for building material, not medicine.
This is so because previously the website associated with the domain has been promoted for providing building material and traffic generated accordingly.
Hence to make expired domains a success, you have to be careful about your niche while driving traffic to your site. You have to make this traffic buy from your site.
So first of all select a niche, then buy an expired domain exactly on the same niche. Next, build a website to start your online business. Hope there is no confusion.
Searching for a good expired domain on your niche is far far better than registering a new domain. Only you have to make certain checks and proceed with your online mission.
There is a famous saying that "well begun is half done." So take your time and do not rush. 
Where do I find expired domains?  
The expireddomains.net is the number one place on the internet to gather information with regard to expired domains. This portal updates information for hundreds of expired TLDs on daily basis.
You can pick up and backorder whatever suits you before these domains are again made available to the general public.
You can also check a huge list of deleted or dropped domain names that are open to the public and can be registered at a normal price.
The expireddomains.net also puts information like SEO data, backlink profile, first registration date, etc. with each domain.
You can use their Domain Name Search Tool to search the entire domain list instantly. Using filters you can narrow down your search results to reach your desired domains.
The domain names containing keywords are more relevant and prioritized while purchasing.
This is due to the fact that search engines prefer such domains while displaying search engine results for keywords. A good SEO profile is backing the selective expired domains.
Moreover, there are dozens of other marketplaces offering you expired domains. Just type your keywords in Google and get the relevant information in front of you instantly.
A few tips on choosing the domain. It must be short but should best describe your business, be easy to type and remember, not difficult to spell, and have keyword(s) in it. It must not contain any digit, hyphen, or special character. Also, choose your domain with a domain extension appropriate to your region.
To know more about domains, here is an article regarding What you should know about a domain or domain name?
It is advisable to book your domain for at least 10 years. Also, if needed transfer it to the Registrar having good online credibility to stay on the side of safety.
Is buying an expired domain illegal?
Indeed, anybody who has the chance to acquire a domain name may do so when it expires. Among the types of identification that are legally protected are domain names. Knowingly registering a domain name whose identity is covered by a registered trademark is illegal.
The mere ability to register a name does not provide any right to do so. You might face legal action for trademark infringement, infringement of intellectual property, and cybersquatting. 
Therefore, it is important to conduct a thorough search and seek legal advice before registering a name to avoid any potential legal issues in the future. It is also crucial to respect the intellectual property rights of others and refrain from using their names or trademarks without permission.
CORNERSTONE CONTENT ON DIGITAL MARKETING